Prime Tech Theta from Prime Technology on Vimeo.
"When the Primal function of nature forces, dedicated to give form to  life will be understood, human kind will then understand the art of collaboration with nature, and will become able to reshape own society, culture, organizations and governments. The Primordial sense of life, birth, must be awaken within every individual, family and organization heart; the ability of self-awareness, and consciousness, will make possible for human kind to care for peace, nature, family, culture and heritage. This is the aim of Prime (Primordial, Primal) Technology. " – Luis Daniel Maldonado Fonken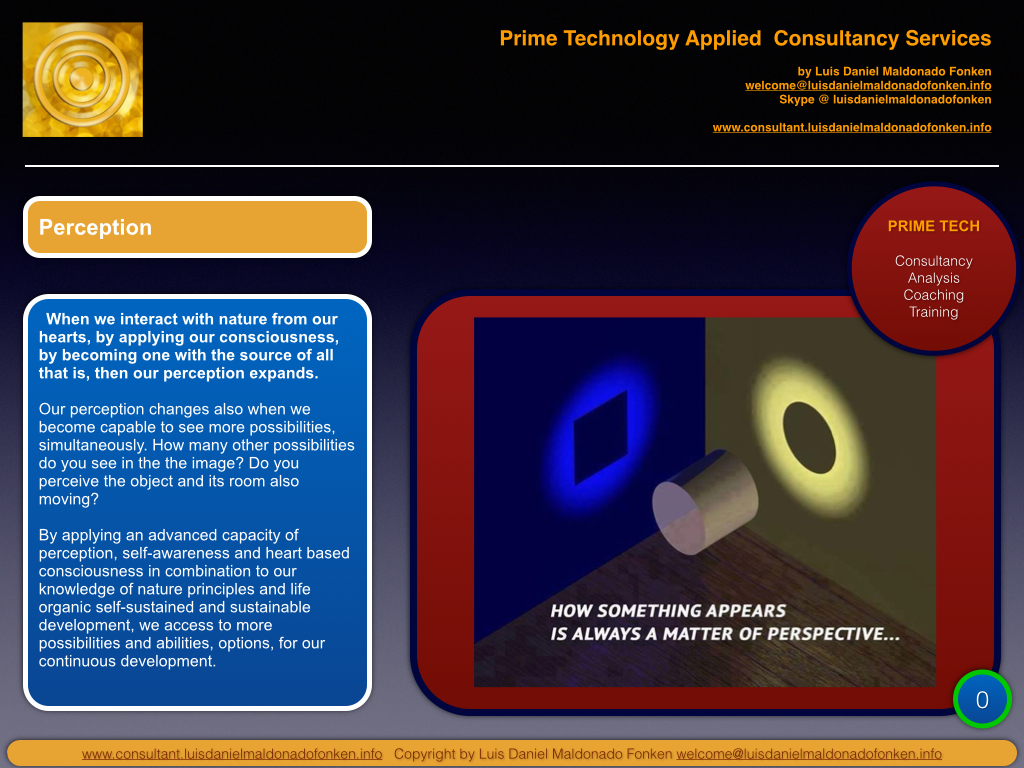 Consider for a moment that
organization pattern
process design,
decision making,
strategy perception
skills and abilities enhancement process
tasks, function, responsibility roles design,
culture guidelines,
behaviour settings,
agreement protocols,
collaboration principles,
communication rules,
innovation and adaptation strategies,
follow nature principles and laws blue print.
Wouldnt it be more easy, to engage into a pattern of doing that have been test proof by nature to work perfectly already?
How to?
0. Bring awareness and perception of nature through organic, feeling, sensing ability (Primal-awareness)
1. Bring awareness on intelligence of nature, models and patterns of behaviour, decision making, as for solution making. (Primal-Systema)
2. Become the principle, re-form (In-prime) the capacity of individual, collective, organization (9+) to experience own self as expression of nature principles, laws, identify and collaborate with them within own development and advancement.
3. Enhance ability of business units (9+) to communicate,  collaborate, decision making, co-create,innovate, develop, enhance, sustain life, culture, family, peace and create heritage. (Prime-Tissue)
4.  Complexify the art of collaboration to the development of the organization, its intelligence, behaviour, performance, function, response, adaptation, instinct, culture, governance. (Prime-Organic)
5. Complexify the art of collaboration in relationship to the location, to the development of the organization in terms of communication, collaboration and care for life, peace, family(9+), culture, heritage. (Prime-Culture)
6. Identify the survival, natural development, adaptation skills, and other conditions necessary at new locations and in the organism, as for seeding new locations for the purpose of creating cultures in it (Digital, Geo, Travel Locations) (Prime-Loc-Assessment)
7. Farm the prime organism into  several locations, creating natural ecosystems and diversity of adaptation processes according to location conditions (Prime-Farming)
8. Expand and replicate at global scale (Prime-Global)
9. Expand and replicate at planetary scale (Prime-Planetary)
9+. Expand and replicate at multiverse, quantumverse, Primeverse scale (9+) (Theta Prime)